We Deliver the Finest Green Tea from Shizuoka
From the hub area of Japanese tea production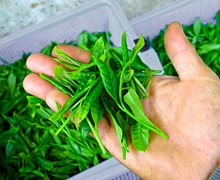 Shizuoka has been the largest producer of green teas in Japan for a long time, due to its unique mountainous topography (which is well-known for Mt. Fuji), temperate climate and limpid water. These conditions are ideal for growing tea plants. In fact, over 20 farming areas in Shizuoka prefecture are responsible for 48% of Japan's total tea production.
Taking advantage of this location, the MURACO's Foreign Trading division has been manufacturing a variety of tea products. We develop a close partnership with local tea growers and tea processing factories in selected areas such as Ashikubo (Hon-yama), Mori-machi (Shuchi), Harunocho Isagawa (Tenryu). As a tea production coordinator, we handle and manage whole supply-chain processes from product marketing/planning, manufacturing, quality control to trade administration. MURACO proudly delivers final products to both domestic and international corporate clients.
We team up with tea growers, factories and wholesale-finishers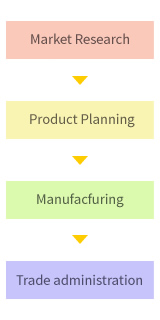 Japanese tea production processes are known to be highly subdivided as tea growers, tea processors and tea wholesalers separately contribute to the production of teas. Immediately after harvesting, tea growers carry tea leaves to processing factories, where the leaves are processed through a typical production line - steaming, rolling, forming and drying. Tea at this stage is called aracha (荒茶 crude tea).
At the final stage, tea wholesalers also play an essential role in finalizing refined tea (仕上げ茶 shiage-cha); they are in charge of sifting/sorting, final roasting (火入れ hi-ire), blending (合組 gougumi) and packaging. Roasting and blending are both important, since through these processes they skillfully control the degree of roasted aroma (火香 hika), and mix favorable qualities from several arachas. These processes determine the final character of the tea produced.
MURACO has developed a strong relationship with these partners and we take responsibility in coordinating whole tea making processes, ensuring our teas meet market needs.
We also offer made-to-order tea products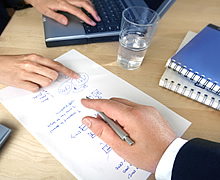 In addition to our regular tea product lineups listed in our varieties and our catalogue, we are pleased to arrange made-to-order tea products which cater to your target customers. Our made-to-order teas include single-estate sencha from master tea-grower's farms and JAS-certified organic Japanese tea.
* Minimum order quantity: 250 kg
Contact information - Foreign Trading Division
Description of Business
Marketing, planning, manufacturing and exporting of
Japanese tea and wall-decoration materials.
Location
#424-0065
Nagasaki 1162, Shimizu ward, Shizuoka city, Shizuoka
JAPAN
Person in charge
Takayuki, Morishita
Email
(or please use the contact form)
TEL
+81-54-349-7510
FAX
+81-54-349-7505
---