Natural Material Wallcoverings
Our collection covers a wide variety of plant fiber wallpapers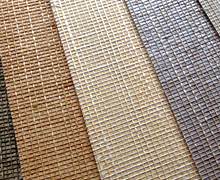 Aside from our flagship shifu wallpapers, we have long produced and exported many kinds of fine wallpapers made from various botanical fibers including manila hemp (abaca), sisal, raffia, rush cloth, jute and more.
* Due to unstable supply situation of natural fiber materials, all products are made to order and normally need at least 3 months for shipment. (As of Jul, 2013)
Manila hemp wallpapers
Manila hemp (also known as "abacá") is a popular wallpaper material used for highest-grade traditional wallpapers. Its characteristic shiny fine fiber adds a luxurious tone to any rooms and space. We afford 3 series (natural, dyed and glossy lining) of manila hemp wallpapers.

Kuima hemp wallpaper
Kuima or "maguey" is a variation of Mexican agave plants and grown mainly in the Philippines as cash crop. It produces fine quality bright fiber, which is utilized for several industrial purposes. We afford 3 series (fine, natural and bleached) of the kuima hemp wallpapers.

Sisal hemp wallpaper
Sisal fiber is a strong and affordable material, with which we may be more familiar in the form of a sisal rope in daily life. As a wallpaper material, sisal has similar character to Kuima wallpapers.

Raffia palm wallpaper
Raffia palm fiber's uneven coloring between the front and the back and irregular surface made with fiber-tying knots gives unique aesthetical effects to raffia palm wallpapers.

Arrowroot fiber wallpaper
Arrowroot is a Japanese versatile utility plant. Bright shiny fibers of arrowroots have a similar texture to Manila hemp fibers.

Rush cloth wallpaper
Rush plants are traditionally used in Japan as a flooring material as known as a tatami mat. Irregurar width of rush straws and large knots give an unsophisticated, rustic tone to the wall.

Jute wallpaper
Jute fibers are an ideal material for wallpapers because they are long, soft and easy to dye. Our collection offers a colorful lineup of jute wallpapers.

Product information
Product
Natural material wallpapers and coverings
Ingredients
Natural plant fiber, cotton / synthetic warp thread, paper lining, bond
Delivery date
Make to order system; at least 90 days
(Please ask our person in charge for detail)
Minimum order amount
100 rolls (8 yards x 36 inches per roll)
Product sample and price estimate
Please contact our person in charge via email:
(or please use the contact form)
---