Shifu - The Traditional Paper-woven Wallpapers
Finest quality Shifu wallpaper made in Japan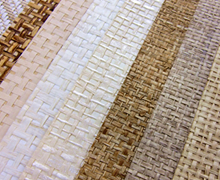 Shifu (紙布) is a traditional Japanese paper sheet, woven with a paper yarn. Some shifus use paper yarns for both the weft and warp, and other shifus use non-paper materials such as silk, cotton, hemp or synthetic strings for the warp.
Not only is shifu tough and durable, it is a natural air-conditioning material for its outstanding breathability and hygroscopic qualities.
Since the width of a paper yarn can vary from a string to a ribbon, shifu design patterns are incredibly diverse. While seamless weaving of thin yarns gives shifu a fabric-like texture, other shifus made with wider yarns have a texture similar to manila or sisal wallcoverings.
MURACO has been producing the highest quality genuine shifus for many years. Several designs in our catalogue are used by leading suppliers of interior materials in Japan. We manufacture both paper-backed shifu wallpapers and plain shifu sheets.
We are pleased to send you free samples. Please contact us using the contact form or via Email.
Traditional Line
Our traditional line of shifu wallpapers represents long-established Japanese folk designs. The technique of braiding a dozen shifu threads using various patterns creates different rhythms leading to a wide variety of expressionsdepending on the color and thickness of the threads, . Some resemble fine fabric textiles and others look like woven oriental handicrafts with geometric patterns.

Contemporary Line
The contemporary line broadens the application of shifu wallpapers with its stylish texture. The combination of the unevenly shaped paper weft and dyed cotton warp creates a chic expression. Its urban, versatile tone suits modern residences as well as offices and public spaces.

Product information
Product
Paper-woven wallpapers (Shifu wallpapers)
Ingredients
Paper thread, cotton / synthetic warp thread, paper lining, bond
Delivery date
Production to order - approximately 60 days
Minimum order amount
100 rolls (8 yards x 36 inches)
Product samples and price estimate
Please contact our person in charge via email:
(or please use the contact form)
---